Flaunt your fabulous furbaby in our unique matching doggy bandanas! Dressing up and looking your best isn't just for us hoomans, our 4-legged companions want to join the party too! Here at Island Style Clothing we offer a vast range of doggy bandanas for your small, medium or large pooch!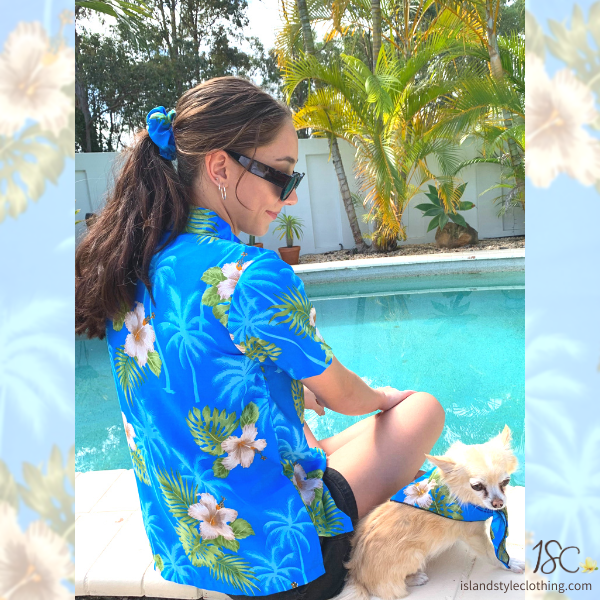 Your pooch is your best friend! They're the first to greet you with a wagging tail, excited smile, incredulous love and adoration when you walk through the door and the last to say goodbye with their little noses peeking through the cracks of the gate, wailing as you drive away. Your 4-legged best friend is there for you every minute of the day, whether they're waiting outside of the bathroom for you to come out, or when they're only mission is to hunt you down when you've been missing for more than a few minutes. They will love you from the moment you first meet until their very last. So why would you treat them to anything less than the best?! You are their world, why not treat them to something special? Our specialty doggy bandanas have you and your bestie covered.
Our doggy bandanas are handmade with love and care here on Sunshine Coast. Our specialty matching doggy bandanas are made from soft comfortable, breathable and splash proof material for your furry best friend to wear from the house to the beach! Your pooch can wear their bandana with pride while having all the fun in the world.
Make a statement in matching bandanas for both your furbaby and yourself! Yep, you read correctly, these bandanas are that versatile! You can join the excitement and wear matching bandanas with your furry companion (we've even got matching scrunchies). You can wear your bandana however you want! They make the perfect addition to any hairstyle. Take a casual walk down the beach with your furbaby to the next level.
The fun doesn't end there! Not only can you go matching with your very own bandana, but we also offer matching classic Hawaiian shirts and shorts. ladies wrap tops, dresses and even scrunchies! You and your pooch will be the talk of the town in your very own adorably matching set. Walk your own runway with your best friend by your side! Make everyone envious of your getup all day every day. 
Give back to your pooch. Treat them like the fashion forward divas they are. Let you pooch flaunt their stuff with our enviable doggy bandanas. Be the next trendsetter. Be the talk of the town. While you're at it, why not treat your self like the king/queen you are too! Let you and your little hooman be the coolest kids on the block!
https://www.islandstyleclothing.com.au/accessories
If you don't instantly fall in love with the designs we have on offer, please do not hesitate to get in contact with us, and we may be able to create another matchy matchy set for you and your pooch! Please remember to follow recommended care instruction and guides to choose the correct sizes for you and you doggo.